Fountain Square Cincinnati
Located in the heart of Cincinnati, Fountain Square is your access to dining, shopping and recreation activities. Whether it is for the festivals in the summer or ice skating in the winter, The Westin Cincinnati is in the center of the action. Guests can enjoy the view of the historic Tyler Davidson fountain from the comfort of their guest room.
With over 250 events each year, you don't want to miss out on the excitement.
Dining
Fountain Square offers four corners of food choices and restaurants including:
Ingredients
McCormick and Schmick's
Morton's Steakhouse
Palomino
Graeter's Ice Cream
Nada
Boca
Boi Na Braza
Nicholson's
Soto
Igby's
Shopping
On the west side of the square, you'll find Fountian Place. Just steps away from our hotel, shop various stores including:
Macy's
Tiffany & Co.
Saks Fifth Avenue
Booksellers on Fountain Square
Entertainment
Enjoy iconic Fountain Square events occuring all year round including:
Trivia night Mondays
Strauss Troy Market on Tuesdays
Salsa night Thursdays
Plus seasonal favorites listed below!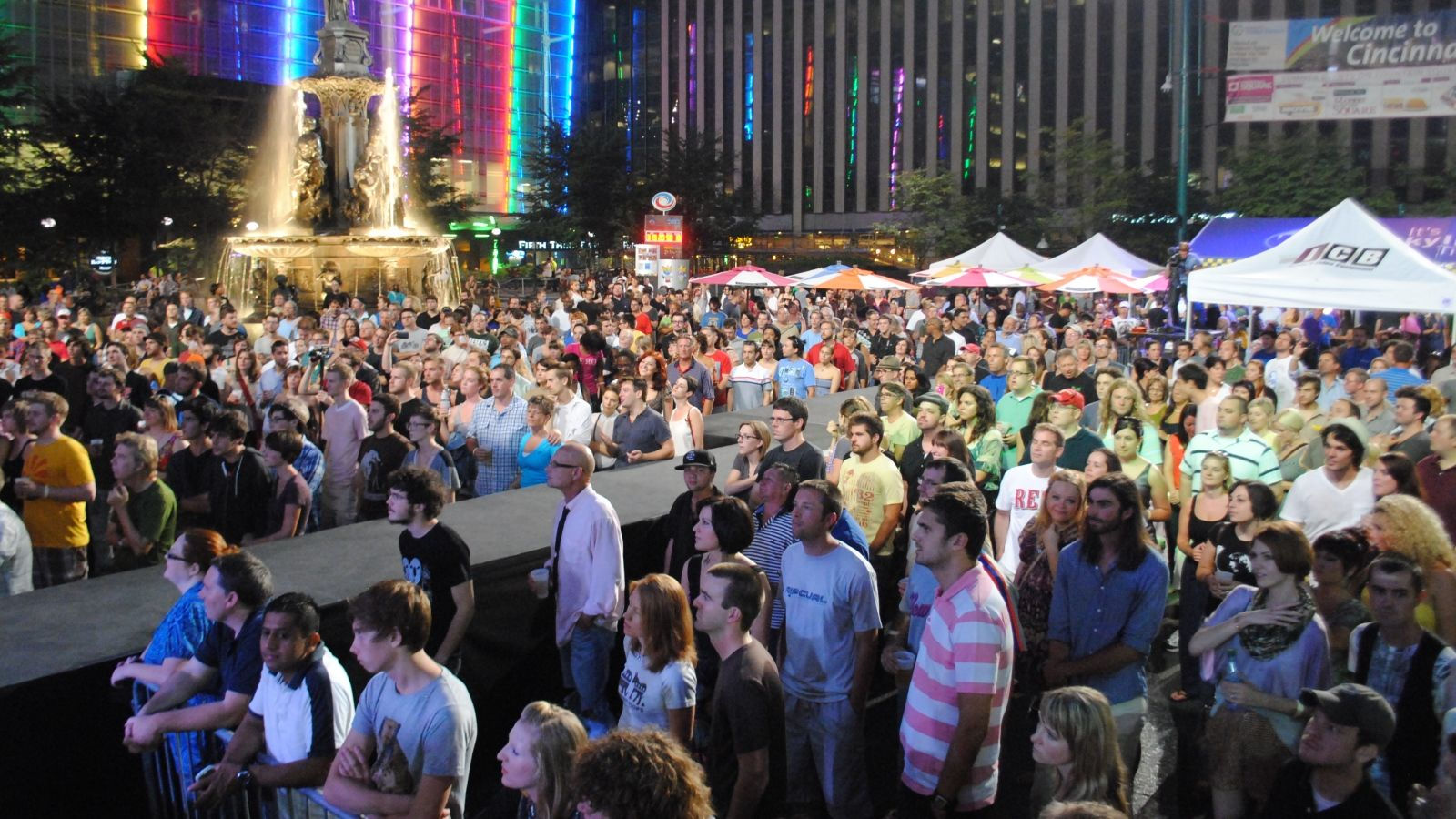 PNC Summer Series
Join us for all of the free events in the PNC Summer Series. The full schedule of events at Fountain Square is below, just across the street from our hotel:
Trivia Night, Mondays, 7p to 9p, June 6-Aug 29
Enjoy fast-paced trivia, drink specials, and food every Monday on the Square!
Fountain Feud, Tuesdays, 7p to 9p , May 31-Sept 1
Fountain Square's spin off of 'Family Feud'!
Reggae Wednesdays, 7p to 10p , June 1-Sept 2
Free Reggae concerts on the Square help to put a little "weekend" in your Wednesday.
Salsa on the Square, Thursdays, 7p to 10p, May 5-Sept 22
Salsa the night away every Thursday with live music, dancing, drinks, eats, and complimentary salsa dance instruction.
Indie Vol. 2016, Fridays, 4p to 11p, June 3-Sept 2
Come enjoy FREE indie music showcases all summer long. Local, regional, and national bands perform every Friday night!
FSQ Live! Saturdays, 7p to 11p, June 4-Sept 3
Join us downtown every Saturday for exciting live music previews from our other weekly concerts.
Spring Events Can Include:
Dates may vary annually
V Day 2-for-1
CinciCARTic Race
St Patrick's Party Celebration
St. Patrick's Day Party
Reds Watch Various
Fish Toss Friday
Wine Tasting Friday's and Saturday's
Swing Dancin'
Giant Game Night
Summer Events Can Include:
Dates may vary annually
PNC Music Series
American Roots Tuesdays
Reggae Wednesdays
Indie Summer Fridays
Beats by Self-Diploma
Sunday Funday
Fish Toss
Coney Eating Contest
Water balloon Toss,
Ice Cream Eating Contest

Fall & Winter Events Can Include:
Dates may vary annually
Tailgate Sundays
RocktoberFridays
Costume Contest
Tree Setup
Turkey Bowl
Light Up
Santa Skates
New Year's Eve
Radio Skates Fridays
Throwback Skates Saturdays
Family Skates Sundays